Viajar a India desde España es una aventura única e inolvidable que puede ser aún mejor si confías en los expertos de Incredible Rural India. Con años de experiencia en el mercado del turismo, te garantizamos un viaje seguro y lleno de sorpresas, descubriendo la cultura, la gastronomía y la belleza natural de India. Ofrecemos paquetes turísticos adaptados a tus necesidades y presupuesto, con una atención al cliente excepcional y un equipo de profesionales que te guiarán durante todo el viaje. ¡No esperes más para vivir esta experiencia única! Contáctanos ahora para más información.
Descubre la India desde España
La India es un destino fascinante que ofrece una experiencia única y enriquecedora para los viajeros de todo el mundo. Si te encuentras en España y estás buscando una aventura emocionante en un país exótico, ¡la India es el lugar perfecto para ti!
En este sitio web, encontrarás información valiosa sobre cómo planificar tu viaje a la India desde España. Desde consejos prácticos sobre visados y vuelos hasta recomendaciones de destinos turísticos y actividades culturales, te proporcionaremos todo lo que necesitas para preparar un viaje inolvidable.
Además, también te ayudaremos a explorar la rica cultura y la historia fascinante de la India, desde la espiritualidad del yoga y la meditación hasta la arquitectura majestuosa de los palacios y templos antiguos. Descubre la comida india deliciosa y la artesanía única que puedes encontrar en los mercados y tiendas de la India.
Te invitamos a explorar este país vibrante y emocionante. Te proporcionaremos toda la información que necesitas para hacer realidad tus sueños de viajar a la India desde España. ¡Prepárate para una aventura inolvidable!
Información sobre cómo viajar a India desde España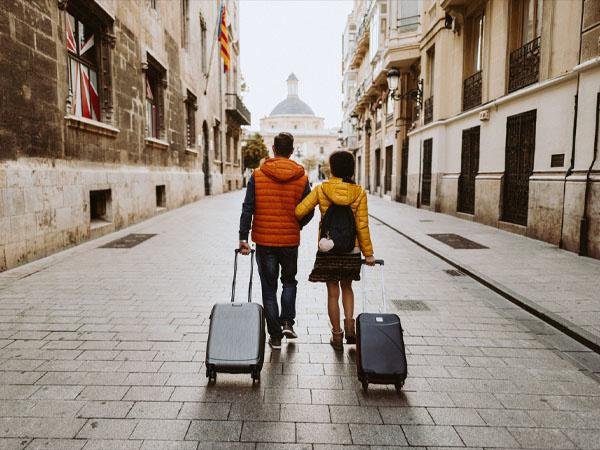 To travel to India from Spain, you will need to follow the following steps:
Get a valid passport: To travel to India from Spain, you will need a valid passport with at least six months remaining from the date of your intended entry into India.
Obtain a visa: Spanish citizens need to obtain a visa before traveling to India. You can apply online through the Government of India website by completing the online visa application form and uploading the required documents. You can also request it through the Embassy of India in Madrid.
Vaccinations and sanitary measures: Before traveling to India, it is recommended that you get vaccinated against diseases such as typhoid fever, hepatitis A and B, and yellow fever. It is also important to follow the health and safety measures recommended by the Indian Ministry of Health and Family Welfare, such as wearing a mask in public places, maintaining social distance, and washing hands frequently.
Buying a plane ticket: There are several airlines that operate flights from Spain to India, such as Air India, Lufthansa, Qatar Airways, Emirates, Turkish Airlines, among others. You can compare prices and schedules on websites of travel agencies and airlines.
Plan your itinerary: India is a large and diverse country, so it is important that you plan your itinerary in advance. Research the places you want to visit, the weather at the time of travel, and transportation options. Also, keep in mind that you will need to adapt to the different cultures, languages and customs of the country.
Change currency: The official currency of India is the Indian rupee. You can change euros to rupees at banks and exchange houses. You can also withdraw cash from ATMs in India with your debit or credit card, but be sure to check with your bank about fees and limits before you travel.
Obtain travel insurance: It is recommended to obtain travel insurance that covers medical expenses, cancellation and repatriation in case of emergency.