India has an expanding tourism footprint, and it should come as no surprise that Delhi, Agra, and Jaipur have the biggest concentration of these imprints. The shortest route connecting these three locations would result in a triangle being traced through the middle of the nation. As a result, it has the moniker Golden Triangle Tour of India. Are you making your first ever trip to India? For an India 101 experience, the majority of best travel agency in India, suggest Golden Triangle.
What is Golden Triangle Tour?
It is one among modern India's well-traveled and well-trodden paths. Delhi, Agra, and Jaipur are all included in the Golden Triangle itinerary. The journey includes famous Indian architectural wonders as well as natural splendours from Rajasthan. Start your journey with exploring Delhi. See the Jama Masjid, Red Fort, Humayun Tomb, Lodi Garden, and other historic Mughal architecture composed of red sandstone and marble. Visit Agra later to take in the Taj Mahal, the Agra Fort, Fatehpur Sikri, and other attractions. Later, continue to the desert area of Rajasthan to explore Jaipur, the former capital, with its palaces, forts, Jantar Mantar, bazaar, and other attractions.
What can one do in the Golden Triangle?
What makes three random locations that form an imagined triangle so special? On the map, it was simple to locate four locations and draw a square. Would that add interest to the square? I guess not always. In addition, the Golden Triangle is more than just three unrelated places that are well-known for the pattern they create on a map. What's inside those places is what makes the Golden Triangle so spectacular.
Agra – The pinnacle of Mughal, marble, and wonder.
This marble epic hub is within a couple hundred kilometres from Delhi. Within a few hours, you may easily be there. If you want to go by road, it will take you only four hours to get to Agra; if you choose to travel by rail, it will take you only two hours. As soon as you arrive in Agra, you will realise that the city is trapped in a sort of Mughal Narnia, complete with echoing buildings, mausoleums, and of course, the Taj Mahal. The Taj Mahal, an elegant marble mausoleum known for its carvings, structural beauty, and use of semi-precious stones in construction, is considered the pinnacle of all Indian architecture. You wouldn't feel empty in any region of the edifice covered in minarets. The Taj Mahal is always as unique as a snowflake, whether it be through its ancient goods, paintings, or the popular strolling geometric garden.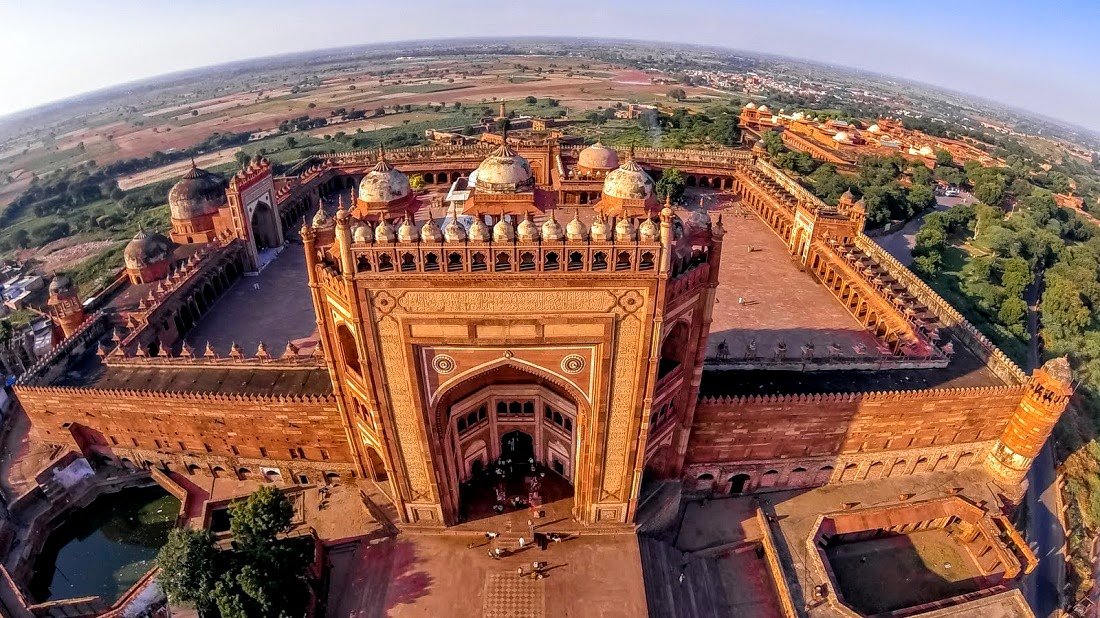 Although the Taj Mahal is the symbol of Agra, the city's tour does not finish there. To take a piece of Agra home with you, browse for tiny Taj Mahals at the street stores after leaving the Taj Mahal. Persian rugs, carpets, wool products, marble products, and other goods are also popular purchases in this location. Once you've finished taking photos of the Taj Mahal and filled your memory drive, it's time to see other important Mughal buildings, such as the Agra Fort, Baby Taj, Akbar's Tomb, and others. The abandoned capital city of Fatehpur Sikhri is another defining feature of the Mughal Empire. Due to a paucity of water and the approaching troops of opposing nations, this capital city—built with every architectural and luxurious flourish—was abandoned after around ten years. We are now left with a deserted city made up of rows of palaces, courtyards, mosques, victory towers, and other structures.
Jaipur – A city of forts and undiscovered temples.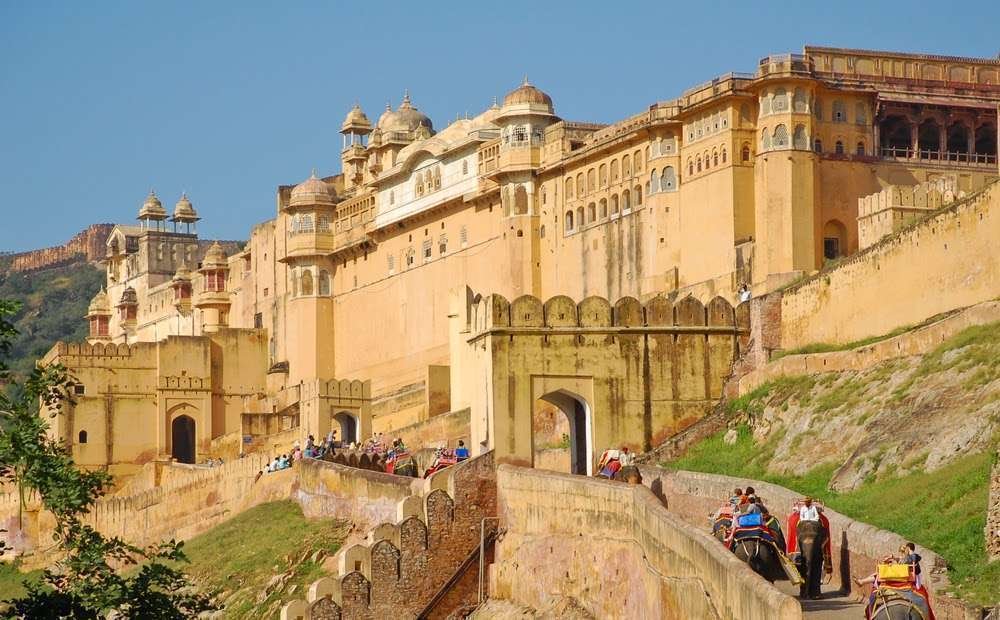 The journey will next take you to the western part of the nation, or the desert area, after Agra. Jaipur has particularly been included to the list in order to show every type of landform found in the nation. Mother India is very fond of her Thar Desert. What makes a desert area so unique? The desert region has managed to produce the richest cuisine with meat and spices using only wild berries and spices as main ingredients, which has drawn many foodies to the place. Their culture has not been impacted by the water shortage. The nation has been able to preserve as much of its vibrant culture as it can. Rajasthan has become a renowned shopping destination in the nation as a result of this. The great Rajputs were able to construct a number of buildings, monuments, and other things using the sand and dust on the ground.
The city of forts is this one. You may create a history walking tour that only includes palaces and forts starting at City Palace. This location has a regal appearance because to the rough terrain of the Aravalli hills with a faint hint of a desert aspect. Immerse yourself in Jaipur to take in attractions like the Hawa Mahal, City Palace, Jantar Mantar, Amber Fort, Nahargarh Fort, Shri Jagatshironmani Temple, and much more. The tales are what make Jaipur the most unique. The forts' buildings and even individual rooms each have a fascinating story or narrative you may read about.
Delhi: Exquisite infusion of Islamic life
To enter an imaginary time machine and travel back a few centuries, stroll around Old Delhi. The word "Old" is well reflected by the historic havelis, market squares, and cobblestone streets. What more does Delhi have to offer besides some historic sites? Since Delhi is the nation's capital, it is connected to practically all of its tourist spots. You may experience the culture of the entire nation in Delhi, whether it is via performing arts, cuisine, festivals, or shopping. Enjoy Red Fort, Chandni Chowk, Qutub Minar, Akshardham Temple, India Gate, and other iconic sites while in Delhi to further connect its history and culture.
Why Golden Triangle is so Famous?
1. The top three locations for a cultural experience are chosen. Each stop on the circuit is a heritage-rich location with festivals, distinctive traditions, and other features. This vacation is the best option if you want to see Indian culture firsthand.
2. Are you going by yourself? You are best suited to the Golden Triangle. All three locations are well-known tourist hotspots that cannot be reached via a side trip. Consequently, no matter when you arrive, you will always be surrounded by a large number of tourists.
3. What endows a place with more beauty than its connection to its past? These three locations were chosen due to their rich historical past, which inspired the construction of countless beautiful buildings. Your exposure to the local history is unavoidable with this circuit.
4. Are you seeking for an opulent excursion? Delhi, Agra, and Jaipur were picked because of their facilities, including their boutique hotels and air-conditioned taxis. All of the locations on the circuit are home to prestigious hotel brands, but if you're seeking for a little bit more luxury, consider taking one of India's opulent trains, which have routes that specifically go through the Golden Triangle.
5. There is excellent connectivity between the cities. All three locations are only about 200 kilometres apart. With lightning-quick trains, six-lane highways, and air connections, you wouldn't have to spend the majority of your time or energy on transportation.
6. These may appear to be three random locations. However, these three locations each have an own culture, a distinctive architectural style, and a distinctive cuisine, so you may enjoy three different types of vacations on one trip.
7. Since no two attractions are exactly alike, you'll never get bored. The changes in the splendour of the Golden Triangle make it the trip for all age groups, despite the fact that the tour is solely focused on sightseeing.
8. Various kings controlled Delhi, Agra, and Jaipur at different eras. As a result, you gain a more in-depth understanding of the local culture while learning about the vivid past of several dynasties in the area.
9. If you want a filling supper with meat, spiciness, and traditional milk desserts, try the food of Jaipur. Agra's cuisine is primarily comprised on sweets. The Mughal cuisine of Delhi and the mouthwatering street food dishes make the entire tour worthwhile for foodies.
No collection of words or list of poetic adjectives can adequately convey the circuit's beauty. The finest way to convey what cannot be expressed in words is via vision. It's time to reserve your preferred tour package and travel like a royal.